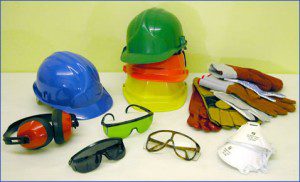 Ontario will focus on personal protective equipment during an enforcement blitz at workplaces across Ontario.
In October, Ministry of Labour inspectors will check on head, eye, foot, respiratory and other protection worn or used by workers at industrial and health care workplaces.
They will check that the equipment is:
the appropriate choice for protection
used in the correct manner, and
well maintained.
Protecting workers is part of the government's ongoing commitment to prevent workplace injuries through its Safe at Work Ontario strategy.
QUICK FACTS
In 2010, 1,075 workers suffered eye injuries, 1,515 workers suffered head injuries and 1,120 workers suffered foot injuries due to incidents related to personal protective equipment.
Since 2008, ministry inspectors conducted more than 266,000 field visits, 34 inspection blitzes and issued more than 426,000 compliance orders.
LEARN MORE